FROM THE DESK OF THE CHAIRMAN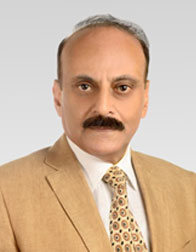 Over the last decade and a half, I have been witness to the growth of this institution from modest beginnings to a magnificent and vibrant crucible of learning. The institution was conceived to keep alive the Heritage of "Service to Humanity" inculcated upon the founders by our revered grand-mother, Smt. Dhanwanti Devi ji.
The School not only maintained the values bestowed upon it but also added contemporary and dynamic traditions. The end result is an institution that boasts of a steady confluence of customs, practices and ethos which exhibit unrelenting belief in values of honesty, hard work, service to society, national spirit, universal humanity and spirituality.
While striving for excellence, Heritage School does not leave even a single member of the fraternity behind, be it the students, staff or the society as a whole.The school remains ever alert in bringing about changes in the educational practices and culture to remain abreast with the evolving times. Nothing but the best for its students is what the management believes in.
The biggest asset of the school remains its partnership with the parents in the creation of highly evolved global citizens; it is from here that it's actual strength is drawn. The reputation of an institution is built on the strength of its alumni and in this aspect I feel the greatest satisfaction as members of our alumni have achieved levels of professional competence and personal advancement which are truly exemplary. I urge the current lot of students to follow the example set by their seniors in letter and spirit.
'Education does not mean any Certificate or Degree of ours but Education is the name of our attitude, actions, behaviour and personality.
Sh. Sunil Gupta
( Chairman )