News In Print
HERITAGEANS REVEL IN THE HINDI PASSION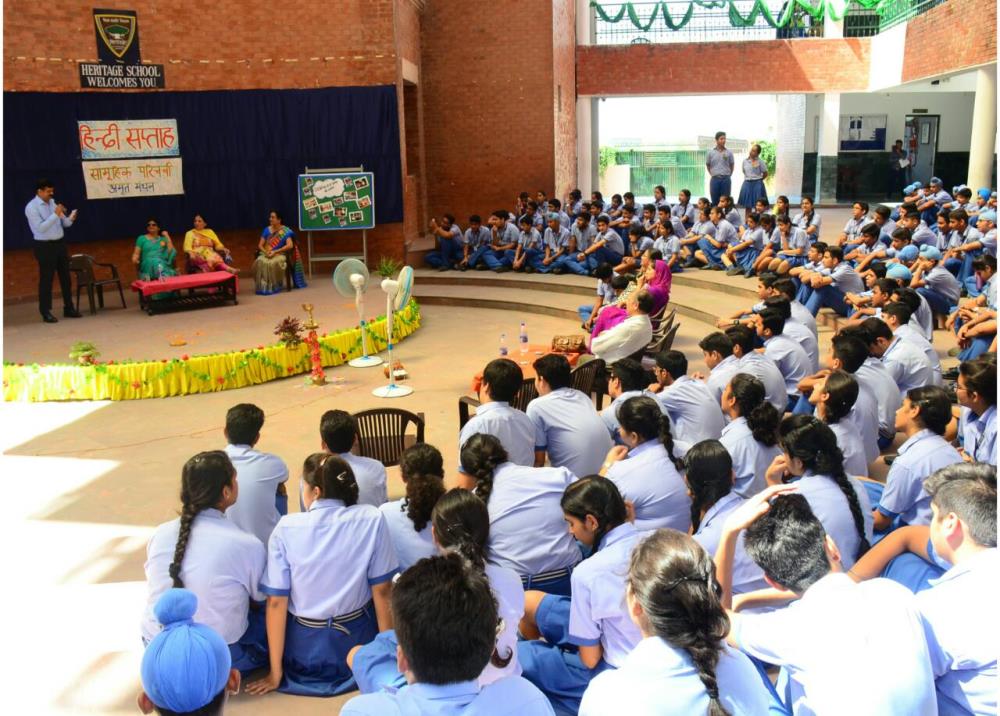 Monday, September 18, 2017
A week long 'Hindi Diwas' celebrations were marked by an impressive, opening programme, here today.
Prof. Parminder Kour, HOD, Hindi, University of Jammu, Mrs. Madhvi Sharma, Sr. Broadcaster, Radio Kashmir and Mr. Rajesh Rathore, Principal, G.D. Goenka school, graced the occasion with their magnanimous presence. The highlight of the day was 'Manthan' – Group discussion by the luminaries.
The dignitaries reiterated the importance of mother-tongue in the progress and advancement of a nation. Mr. Rathore mesmerised the audience with his rich poetry. Earlier, the programme began by lighting of the ceremonial lamp, followed by a 'Vandana' to invoke the blessings of Goddess Saraswati. The celebrations resonated the theme- 'Mother tongue gives emotional depth to words'. Also present on the occasion were Mr. J.S. Dhami, Principal, Heritage School, Mr. Aji Varghese, Vice-Principal, Mrs. Vandana Jasrotia, Headmistress and Mrs. Archana Sharma, senior co-ordinator.
The guests were all praise for the efforts of the students and teachers to organise the event.