News In Print
HERITAGEANS ATTEND INTERACTIVE SESSION ON PANCHAYATI RAJ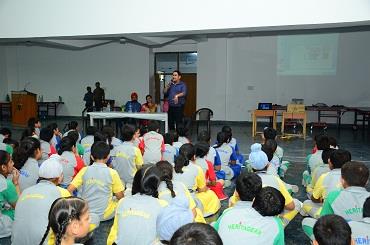 Tuesday, October 10, 2017
"India lives in the villages and villages we must empower". This thought by Mahatma Gandhi was extensively discussed and dwelled upon in the interactive session held at Heritage School Jammu.
The special invitees of the day were Ms. Manpreet Kour KAS, District Panchayat officer, Kathua, Mr. Kuljit Singh, Academic Coordinator Jammu University, Bhaderwah campus and Mr. Rahul Gupta KAS, BDO Hiranagar.
The efforts were to talk about Panchayati Raj, its history and perspectives to share knowledge and bridge the gap between theory and critical issues. About 250 students of Class VI participated in the programme. The guest answered the queries of the students while highlighting the key issues of rural India. The concepts were explained and presented through power point presentation to help the young learners understand the key concepts and working of Panchayats.
All in all, it was an enriching and highly informative session for the students. The guests were felicitated by mementos as a token of appreciation from the Heritage family.