News In Print
Heritage School Holds an Enthralling Investiture Ceremony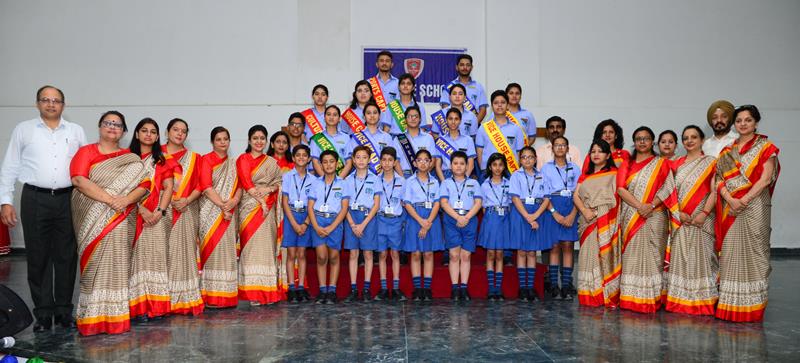 Tuesday, May 30, 2017
'Leadership and learning are indispensable to each other'. Council Body selection or election is the part of education that enhances the leadership qualities and imparts managerial skills in the children which has become a necessity in modern journey of success the new academic session 2017-18 ushered the formation of a new Council Body of students with immense potential and outstanding leadership qualities imbued in them. The management, staff and parents encouraged the children with their convivial presence on the occasion.
The programme commenced with the welcome speech followed by a melodious welcome song. The new Council Body members in their graceful uniform were sworn in by Mr. Aji Verghese, the Vice- Principal of the school.
However, the event attained its height when Kartik Tripathi - Head Boy, and Dhairya Gupta - Head Girl, were pinned badges and sashes by the worthy Principal. Abhinandan Choudhary, Vice Head Boy and Mrighu Sambyal, Vice Head Girl, were conferred badges and sashes by the Vice-Principal. Mrs Vandana Jasrotia , Headmistress, adorned the badges and sashes to Athrav Dabgotra and Ifra Samyal and other gifted young junior prefects.
Sports Captain, Shubham Soni, was graced by Mr Satinder Singh , sports coordinator. Sonamdeep Kour, Cultural Secretary was awarded badges by Ms Neha Sharma. This was followed by the pinning of badges and sashes for the various prestigious posts for the four Houses. Mrinal Raina, Rena Taj, Muskan Gupta, Bhavya Nayyer were sworn in as House prefects and Tavish Sharma, Arshia Gupta, Vaibhav Sharma , Sarah Gandotra as Vice-Prefects for the four houses. All the Council Body members & House Captains promised to disburse their duties and responsibilities in the most upbeat and assiduous manner.

The worthy chairperson guided the young torch bearers of the school to work in harmony and craft a productive synergy. She urged the council members to perform their duties to the best of their abilities. The Principal, in his inspiring speech advised children to become good human beings with high moral values and positive attitude in their life and to focus on their mission which can only be attained with a clear vision. The group song 'I am ready to go' was wonderfully presented by school choir. The vote of thanks was proposed by Mrs Archana Sharma. The prestigious Investiture Ceremony was concluded with the school song that inspires Heritageans to work with dignity and keep the flag of their school flying high.