News In Print
HERITAGEANS REPRESENT J&K AT 14TH UDBHAV UTSAV 2017 GWALIOR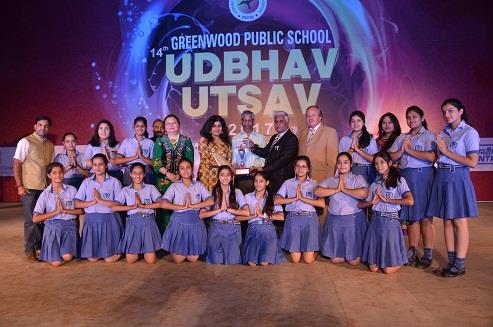 Tuesday, November 7, 2017
Heritageans proudly represented J&K state at Udbhav Utsav (International Dance Carnival) 2017 held at Gwalior from 26th Oct. to 29th Oct. 2017. 15 students of Heritage School Jammu along with their teachers / mentors participated in the International Dance Festival representing the rich and diverse cultural heritage of J&K at the national level.
The mega event which was inaugurated by Mr. Hans J. Holz, Global Vice-President, IOV World-International Organisation of Folk Arts, Austria at Indian Institute of Tourism & Travel Management, Gwalior ; saw the participation of more than 30 schools from across the length and breadth of the country and many international dance groups from countries like Bulgaria, Iran, Kyrgyzstan, Slovakia, Sri Lanka, Bangladesh and South Korea.
Heritage School team won the 1st consolation prize in the folk category and also bagged 'Best Disciplined Team' award for showing self discipline, cooperation and restraint of the highest order. They won accolades for presenting Kashmiri Rouf and Dogri 'Jagarna'. The colourful palette of their lively costumes, combined with musical extravaganza and rhythmic synchronisation was much applauded.
The impressive closing ceremony of the gala event was presided by Shri Vivek Shejwalkar, Mayor Gwalior and Mr. H.E. Samargiul Adamkulora, Ambassador of the Krygyz Republic to the Republic of India was the worthy chief guest. It was an enriching experience for students to showcase their talents. This endeavour on part of Heritage School was an effort to involve students in promotion and preservation of the traditions and customs of the state.