News In Print
SCOUTS AND GUIDES OF HERITAGE GO TREKKING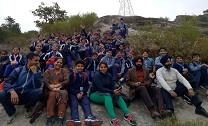 Friday, November 17, 2017
A trekking camp was organised at Nagrota by Scouts and Guides Heritage school.
24 adventure lover Scouts along with their guide teachers Mrs. Manjeet Kour, Mrs. Rashi Thakur, Ms. Neha Bhogal and Ms. Shabaz Khan undertook a 10 km trek. Trainers from the headquarters Scouts and Guides who accompanied the group were Mrs. Manjeet Kaur and Mr. Harcharan Singh.
The aim of the camp was to foster an appreciation for nature, increase physical fitness and build up mental strength.
It was an enriching & exhilarating experience for the trekkers, as it was not only a break from the routine but also an opportunity to learn skills which would help them to gain a sense of independence and self reliance.
Learning these skills at a young age set a strong foundation for a healthy, happy future in which they would be able to handle themselves independently.