News In Print
HERITAGEA SCHOOL HUMANITIES DEPARTMENT VISIT PHOTOGRAPHIC EXHIBITION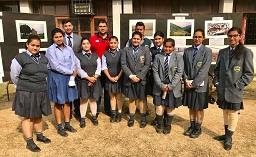 Tuesday, November 21, 2017
The students of classes XI and XII visited Brig. Rajinder Singh Auditorium to witness a Cultural Programme and a Photographic exhibition organised by Centre for studies in Museology and Shiekh Noor-ud-din Noorani Museum of Heritage in collaboration with Dean students Welfare and Institute of Music and Fine Arts.
The theme of photographic exhibition and the cultural programme was 'Nature and People' and 'Lesser Known Aspects of Intangible Heritage'.
This visit was part of the World Heritage Week Celebration being carried out by the Arts Department of the School.
The aim of the visit was to expose students to the rich archaeological cultural and musical heritage of the State and the Nation and sensitize the students towards the need to preserve these rich traditions which are getting lost in the transforming society because of the influence of westernisation and digitalisation. It has always been school's endeavour to give an opportunity to the students to experience such informative programmes.