News In Print
HERITAGEANS ATTEND ROUND SQUARE CONFERENCE 2017 AT PPS NABHA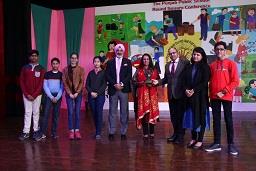 Monday, December 11, 2017
The Heritagean aim of bringing out the best in children was further strengthened as Punjab Public School Nabha, a premier educational institute, hosted students of Heritage School Jammu for Round Square Conference 2017.
6 students namely Vasundhara Sharma (VIII B), Siman Balia (VIII B), Pratyush Singhal (VIII A), Aryan Slathia (VI F) and Jeevitesh Malik (VIII D) along with The Principal Mr. Jagadish Singh Dhami and the teacher incharge Ms. Ayushi Bhardwaj attended the 3 days conference from 8th to 10th Dec. 2017. The theme of the conference was 'Greatness Out Of Small Things- De Paravis Grandis Acervus Erit'. The aim of the conference was to inculcate the feelings of responsibility through values of faith, hope, empathy, service and love by pressing upon the saying 'Great Things are not done by impulse, but by a series of small things brought together'. The students were engaged in community service, Art workshops, Group Discussions, Deliberations etc.





The focus was to sensitize the children by infusing in them the spirit of humanity so that the young learners become a ray of hope and sunshine for every possible human being.
Heritageans had the golden opportunity to partake in the conference along with delegates from leading National and International Schools like Mayo College Ajmer, Welhams Boys School, Dehradun, Scindia School, YPS Patiala, Doon School (Boys), Singapore International School, Bombay, Indian High School, Dubai, Indian School Al-Gobra, Sulnanat of Oman, to name a few.
The students had a rich and engaging experience under the pastoral care of PPS, Nabha where the students nurtured the humane feelings within for holistic development.
The entire effort of the conference resonated to make our future generations, Global citizens and leaders of tomorrow who are enabled to turn dreams into reality.