News In Print
HERITAGE SCHOL ORGANISES LIFE SKILLS PROGRAMME UNDER UNSDG'S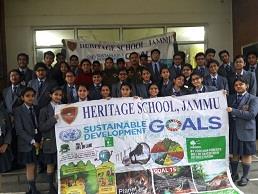 Tuesday, December 12, 2017
A visit to police station was arranged by Heritage School for the students of classes IX and X, under the aegis of Gandhi Global Family and Gandhi peace Foundation , wherein Heritage school has been allotted UN Sustainable Development Goal 15 - Life on Land. During the visit the students were made aware of the functioning of the police station, the role of police in society and the procedural aspects of complaint.
A discussion with SHO and other officials in the police station helped the students understand the procedure of filing an FIR, the difference between cognizable and non cognisable offense and the role a cop performs in the process of investigation. Students were made aware of the need to follow rules and regulations, which if violated can put one in dire situations.
Students were also educated about the use of I.C.T tools by the police which has hastened the process of sharing, dissemination of vital information which helps the police force for better and timely service delivery with economic effectiveness and efficiency. They were also informed that complaints can be registered online and the complainant can view information regarding status of the complaints and receive feedback from police online.
From serious to naughty to informative, children fielded questions to the police officers to have them all answered patiently.
It was a great learning experience for the students as they not only understood the nitty -gritties of criminal justice but also learnt to appreciate the contribution of armed men in maintaining the peace and order in our daily lives.