News In Print
Heritageans Visit Fraser Valley Chandigarh Campus and L.P.U. University, Jalandhar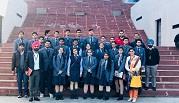 Thursday, December 21, 2017
Heritage School organised a two day visit to Fraser Valley Chandigarh and Lovely Professional University, Jalandhar for the students of classes XI – XII.
The aim of the visit was to foster an understanding of current developments and available courses after class 12, as it is necessary to stay informed of latest trends in one's field of expertise which helps one to make better choices.
During the visit the students had the opportunity of attending career counselling session with Mr. David Mc Guire, Director UFV, Prof. Mike Ivanof, Professor of Business Studies UFV and Mr. Rishi Chopra, HOD Computer Application, LPU.
Students also toured the university grounds and visited various departments like Mecha-tronics, Film editing, Fashion etc. Various kiosks had been set up; where children were informed about career prospects in different fields and were also given psycho-metric tests, so that they can judge their aptitude regarding the course best suited for them.
It was an enriching and informative tour which helped them to get better understanding of the recent trends in the world of work.