News In Print
HERITAGE SCHOOL ORGANISES A TWO DAY WORKSHOP ON CAPACITY BUILDING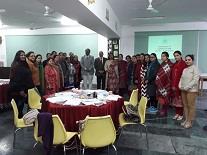 Monday, December 25, 2017
A two day workshop on Capacity building was organised at Heritage School under the aegis of CBSE, on 23rd and 24th December. Teachers from 14 different schools across Jammu attended the workshop. The workshop was conducted by CBSE Master Trainer, Ms. Monika Sethi and Dr. Shubendu Sarkar, Principal, K.C International School. The objective of the workshop was to provide a platform for teachers to question, learn and share knowledge of the communicative skills and the latest changes in class X curriculum. Ms. Sethi elucidated upon the importance of Listening and Speaking skills.
The second day of the workshop was all the more stimulating as different activities and group discussions conjointly opened new doors of learning for the teachers. Dr. Shubendu Sarkar and Ms. Sethi guided the teachers in having clarity about the communicative skills which are stepping stones to success for each child to shine in his professional vista.
Resource person's constant guidance through the two days helped the teachers to enhance their knowledge of the communicative skills thus making teaching learning more effective in the changing environment of the present time and push ourselves to being paragon teachers.