News In Print
Heritage School Bids Farewell to class XI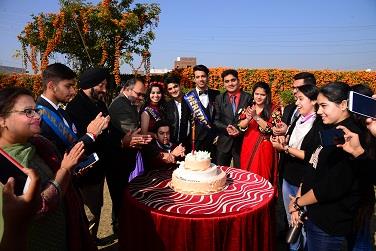 Saturday, February 3, 2018
Heritage School grounds were abuzz with activity as class XI hosted a luncheon for the outgoing class of XII on Saturday, 3rd Feb. 2018. They had made all efforts to make the last day of school very special and memorable for their seniors, who would soon embark on a new path in their lives.
A very fun and entertaining cultural programme was also organised which added a zing to the day. The farewell function started with an evocative welcome speech delivered by the vice head girl Mrigu Sambhyal ; after which the girls and boys of class XII dressed up to their glamorous self rocked the ramp walk. The best 10 amongst the boys and the girls were selected for the questions answers round which determined Goutam Kohli as Master Heritage and Tanya Gupta as Ms. Heritage. The runners up were Divanshu Saini and Riya Andotra who were given the title of Mr. Charmer and Ms. Elegant respectively.
Song and Dance items presented by class XI students further energised the festive atmosphere, the stand up comedy by Manav Seth had everyone in splits.
Cake cutting ceremony was followed by a sumptuous feast and the beautiful day concluded with a slide show which captured the essence of school life. Students reminisced their fun filled days in school and expressed how difficult it was for them to go out of the portals of their alma- mater.
The Principal in his address to the students conveyed his best wishes to the outgoing batch for the board exam and future ahead. He advised them to always follow the right path and chase their dreams with passion and conviction; as well as brave the challenges of life with a smile on their face.