News In Print
HERITAGEAN VANDHANA BHARTI EXCELS IN GYMNASTICS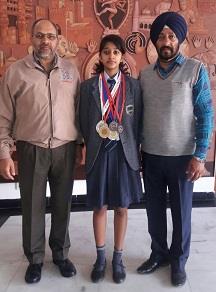 Wednesday, February 28, 2018
Vandhana Bharti of Heritage School has brought laurels to the school by her sterling performance in various Gymnastic events held across the country.
In November 2017 she won a silver medal in Team Event (Under-17 Category) at school Nationals held in Kolkata, West Bengal. She clinched 2 bronze medals and received a cash prize of Rs. 25,000 in National Cash Award Championships held at Khelgaon Public School, Allahabad, on 29th & 30th January 2018. She won 5th position in Khelo India games held at Delhi in Indira Gandhi Stadium from 31st January – 8th February 2018. She also won a team gold and an individual silver in Federation Senior Nationals held at Mohali from 16th to 18th February 2018.
The Principal and the Staff congratulated Vandhana on her stupenduous success and lauded her efforts for bringing accolades to the school.