News In Print
PRESS RELEASE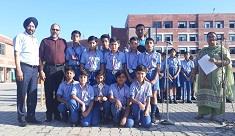 Friday, April 13, 2018
Heritage School U / 12 Football team clinched 2nd position in "Khelo India- Let Us Play" U /12 boys Foot ball Tournament organised by Youth Services and Sports on 10th & 11th April 2018.
The students part of the team were: Hashmet Salaria V C, Hayaan Ali VI C, Umar Khan VIII A, Wasim Rafiqi VII G, Saksham Gupta VII F, Vikrant Gupta VII C, Tanishq Salathia VII B, Sehaj Pal Singh VII G, Azam Majid VI C, Adhikshit Kumar VII G, Veer Ayar Bhadwal VII B and Agam Jot Singh VI D.
The team was felicitated in the school assembly. The Principal & the staff congratulated the team on their success and wished them good luck for their future endeavours.