News In Print
Dr. Farooq Abdullah Inaugurates The IIMUN Jammu at Heritage School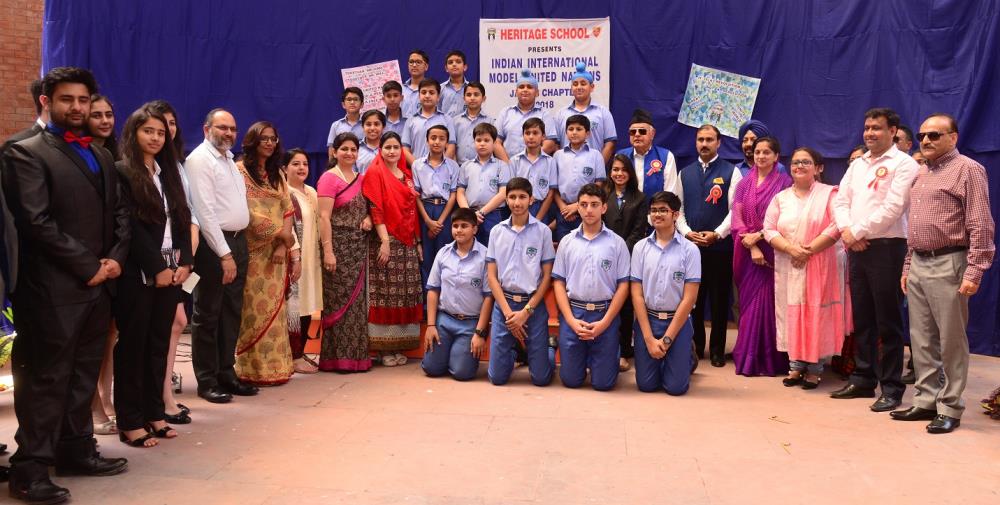 Friday, May 4, 2018
The fourth edition of the IIMUN Jammu commenced at the Heritage School on May 4th with a glittering Opening Ceremony, which took place in a festive spirit of great excitement in the school Amphitheatre.
Dr. Farooq Abdullah former Chief Minister of J&K graced the occasion as the Chief Guest. The other special guests present were Mrs. Rifat Choudhary, Regional Director Land Records Settlement Officer, Mr. Vikas Sharma, Joint Transport Commissioner, J&K & Mr. Ranjeet Kalra, Vice – Chairman, J&K govt. State Sports Council, Jammu as well as Principals of various reputed schools of Jammu city.
The programme started with the auspicious ceremony of lighting the lamp by the address of Ms. Kajol Thakkar, Secretary General, who in her speech talked about the importance & relevance of MUN's as this activity goes a long way not only to foster communicative skills but also play a key role in holistic development of students. She also declared the MUN open.
A splendid cultural programme was put up by the students of the Heritage School who mesmerized everyone with their magnificent performance and set the ball rolling for the Conference, which is being attended by 250 students from Jammu region.
Farooq Abdullah in his address, to the gathering expressed his delight at being present among young students. He appreciated the efforts of IIMUN and host school in providing such an important platform to children for not only enhancing their public speaking skills but also shaping the leaders of tomorrow. He also interacted with young and enthusiastic students who were equally delighted to get the opportunity to interact with him. Dr. Abdullah in his talk emphasised that the mutual understanding and respect for elders ; and most importantly for the teachers who are integral and vital to the growth of a nation. Therefore ,he directed the children to always stay grounded and deeply connected to our tradition.
The programme ended with the vote of thanks by the Principal Mr. Jagadish Singh Dhami.