News In Print
Heritage Organises 3 day Scouts & Guides Camp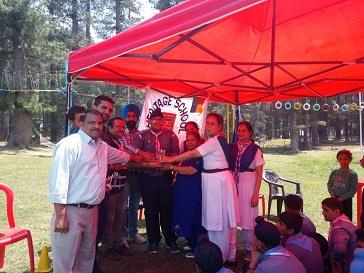 Friday, June 1, 2018
The Scouts & Guides Wing of Heritage organized three days and two nights camp at Sanasar from 29th May to 31st May 2018. 46 children and 5 escort teachers with the State Head-quarter Commissioner were part of the camp.
As scouting has full faith that everyone needs challenges in life to grow, the camp gave an opportunity to the young scouts to face the challenges during the trekking camp with open heart and equip them with ability to real life challenges.
The students were exposed to various interactive and interesting activities during the three day camp. The day started with B.P. exercises and then a trek to nearby waterfalls. During the trek, students visited the local villages. They took a walk through fields and experienced the village life. Students also interacted with local rural people and gathered information about their daily routine, sources of entertainment education and local flora and fauna.
The evening classes were taken by resource persons from H.Q. Ms. Manjeet Kour and Ms. Kanchan Sharma; wherein nuances of scouting were elaborated upon. These classes were very informative and educative for children. They were taught basic knots of scouting like reef sheet band, fisherman knot, etc. The young scouts were explained the purpose and uses of these knots. Various other activities like cooking, concentration game, tent inspection, high rope course and archery. Divya Singh Soodan of class IX B was adjudged as the best Scout and Manmeet Kour of class IX F was declared as the Best Guide.
Evening camp fire and students active participation in group activities and games displayed the high energy level that the Heritageans posses.
The young participants showed a lot of excitement zeal and enthusiasm in taking the physical as well as psychological challenges. It was an experience students are likely to remember for a long time.