News In Print
Heritage School Ranked First Among CBSE Schools in Jammu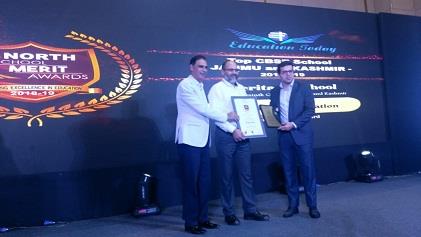 Thursday, September 13, 2018
Heritage School, Jammu was adjudged as top CBSE School in J&K and was awarded for Quality in Education in a glittering Award Ceremony on 9th September 2018 at the Taj City Centre, Gurugram, organized by Education Today. Co,one of the leading education portals.
The award was received by the Principal, Mr. Jagadish Singh Dhami , who appreciated and acknowledged the effort of each staff member in achieving this honour.
Out of 835 survey forms only a few schools were handpicked and nominated for the awards. North Schools Merit Award is based on Jury Ranking, Parents Vote and Survey Analysis.
The school has already received twice among top CBSE schools In a nation-wide survey conducted by Education World – another leading educational magazine of India, the Heritage School has been ranked No 1 Co-Edu School of the state, amongst CBSE Schools twice earlier and North Schools Merit Award is another milestone in the glorious journey of the school and a testimony to school's continued efforts to provide progressive and quality education.