News In Print
HERITAGE SCHOOL WELCOMES THE IRON LADY ON WHEELS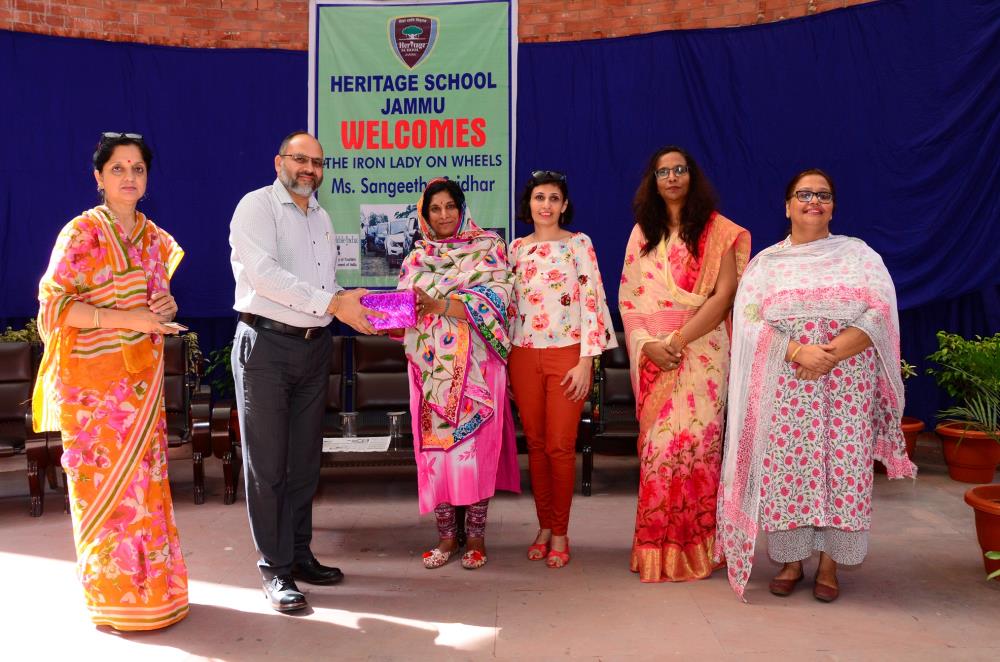 Tuesday, September 18, 2018
Heritage School had the opportunity to host Ms. Sangeetha Sridhar who has taken up the unique initiative of driving solo across the country to evaluate the impact of Swachh Bharat Movement. She aims to take an audit of public toilet facilities and its functionality on highways and also endeavours to prepare a report on how safe it is for women to travel alone in India. She will hand over the findings to the Ministry of Tourism, Swachh Bharat Mission an initiative of Govt. of India under the leadership of the honourable Prime Minister and United Nations Sustainable Development Board.
She started with her unique road trip from Gateway of India, Mumbai on Aug. 12 in her modified SUV Tata Hexa. She plans to cover a distance of 29000 km through 310 cities across India, in a solo trip she calls 'Clean India Trail'. After driving for more than a month and covering several Indian states she is all set to explore Jammu & Kashmir.
Heritage School along with Ms. Payal Jain, City Coordinator for Clean India Trail and J&K Tourism have come forward to facilitate her journey in Jammu and help spread awareness on reducing the carbon foot print in the city.
She interacted with the school staff and shared her experiences with them. She debunked the general public and media perception that India is unsafe for women. She told the audience that she has been overwhelmed by the amount of love and cooperation she has received during her journey. She also opined that every individual has potential, just needs to get rid of his/her mental blocks. She also talked about importance of living a simple Gandhian way of life and thus contributing towards reducing carbon foot prints. She even shared the simple techniques she was following to make her journey eco-friendly.
It was a highly inspiring and motivating to listen Ms. Sangeetha Sridhar who practices what she preaches.
The Principal, Heritage School, expressed his gratitude to her for sparing her valuable time for the school and sharing her experiences of her incredible journey. She'll be camping overnight in the school and will interact with the students on the morning of 19th Sept. 18, to motivate and inspire them to take up the clean India drive in earnest and to see their country as one unified family without any limits of borders and states.