FROM THE DESK OF THE PRINCIPAL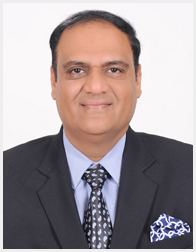 Mr Akash Pradhan is a former Senior Geography Teacher from the prestigious Mayo College, Ajmer. He has more than 20 years of teaching and administrative experience in different capacities at Mayo. Having his double stint at Mayo, first as a student and then as a teacher, he is synonymous with the culture, traditions and ethos that Mayo represents and stands for.
Keeping abreast with the changing paradigms and technological advances in the field of education, he has always emphasized on taking teaching and learning beyond classroom and encouraged creativity, collaboration and critical thinking among students. His geography lessons are never limited to geographical locations and features in the text books. They invariably include the local culture, traditions, cuisine and interesting anecdotes, which enhance the learning curve. He has travelled a few countries and visited some of the finest Schools and Universities of the USA, which has widened his perspective on education.
He was the Housemaster for 6 years of Jaipur House, a Senior Boarding House at Mayo. This was, for him, perhaps the most rewarding phase at Mayo in a way that his contagious joie de vivre inspired the students to strive for excellence and realize their full potential with a positive outlook towards life. Under his able leadership the students of Jaipur House won multitudinous prizes in the various Inter-House- literary, cultural and sports competitions.
His profile at Mayo was diverse. As the In-charge of the Geography Society, he gave interesting and varied dimensions to the subject. As a true 'guru' not only did he inspire his students to look in a particular direction but also empowered them to search for and achieve their aim independently. He was also, simultaneously Master In-charge of the Aero Modelling Club wherein his pupils took creative flights in science and technology, with him. In the sphere of sports, being the supervisor of Tennis, he taught his students numerous life skills of how to handle pressure and stay calm and composed when faced with difficulties and challenges not only on the sports field but in life too. His passion for mountaineering, trekking, ice-skiing and even water skiing earned him the image of an ever young and energetic man with fierce grit and die-hard determination. In the course of the 20 treks or so that he undertook with students over the years, he explored Nature keenly and imbibed life-lessons that she has to offer. That he was entrusted with the responsibility of the coordinator for the Annual Prize Giving function for consecutive six years only proves the confidence the School Management has in his capabilities and experience.
He graduated from Mayo College Ajmer, one of the most renowned public boarding schools of the country, often called the 'Eton of the East'. His exposure to this magnanimous boarding school contributed towards making him a strong individual who believed in himself, accepted challenges and overcame them. He went on to acquire his Bachelors Degree (Hons) in Geography and completed his Masters in Geography from MDS University, Ajmer. Fascinated by the business world at the peak of his youth, he enrolled himself for an M.B.A. in Marketing at IMS-Devi Ahilaya Vishva Vidhyalaya, Indore. To enhance his contribution to the sphere of learning he obtained a Bachelor Degree in Education from IGNOU (Delhi) thereby honing his already excellent teaching skills. As an ace National level Squash player, he represented Mayo and MDS University, Ajmer in numerous tournaments and brought laurels. A recipient of the Bronze and Silver Award under the Duke of Edinburgh's scheme, he is a role model for many.
Before stepping into the World of Academics, he worked as a Manager (Sales and Production) at Bata India Ltd and Tata International Ltd. for eight years. As a keen observer, every phase of his career has been a learning experience and he has always integrated the lessons that he learnt in the business world into his classroom teachings thereby contributing commendably towards the wholesome growth of innumerable young minds whom he helped carve into worthy scions of Mayo and promising citizens of the World.
Mr. Akash Pradhan